STUNNING Views of the Black Mountains!
See our new website at www.StayAtPenland.com
From every room, you will see scenes like this photo taken in the early morning hours looking out from the sliding glass door of the master suite out onto the Black Mountains and Mt. Mitchell!
Master Suite
The master suite features a chaise lounge and comfortable king size bed with soft all cotton bedding. All original artwork and amazing view top it off.
Master Suite
Warm barn wood accents compliment the natural setting and makes the room cozy and relaxing.
Master En Suite
The master en suite bath has premium towels, washcloths, and hand towels, as well as a magnifying makeup mirror, a jetted tub with television, a separate walk-in shower, toilet, heated floors, and a hairdryer.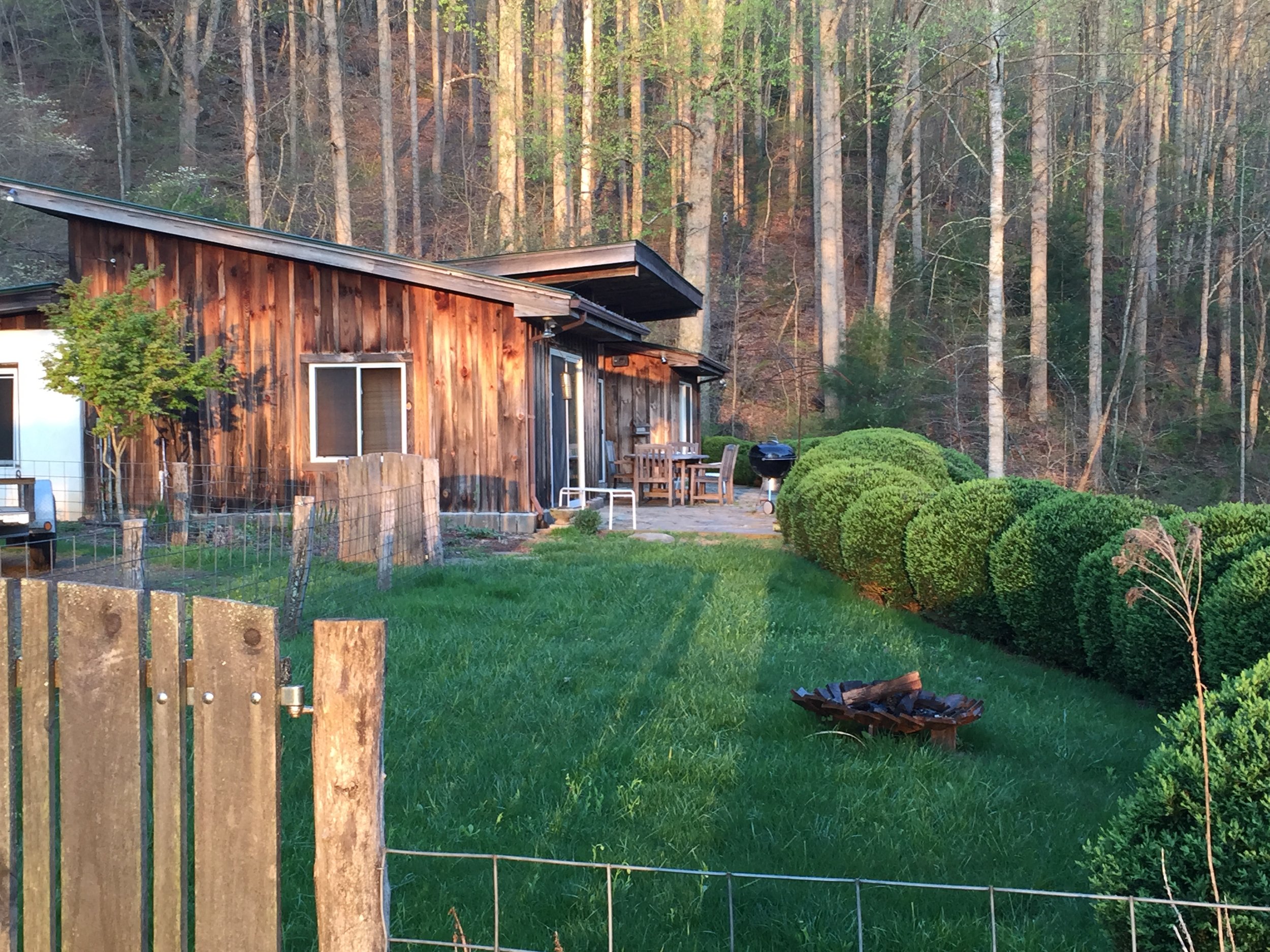 Fire Pot & Guest Master Suite Side
The fenced in yard that wraps around the front of the house which faces the view is perfect for furry visitors. The fire pot is solid steel and was made by Sven Bauer, a blacksmith friend in Germany. The house is full of original artwork.
Guest Master Suite
The king size bed in the guest master suite will leave you refreshed in the morning. Each suite has its own thermostat so guests may customize their comfort.
Guest Master Suite
Our largest suite, the guest master has a generous seating area with queen size fold-out couch, closet, and a full en suite bath with magnifying makeup mirror and hairdryer included.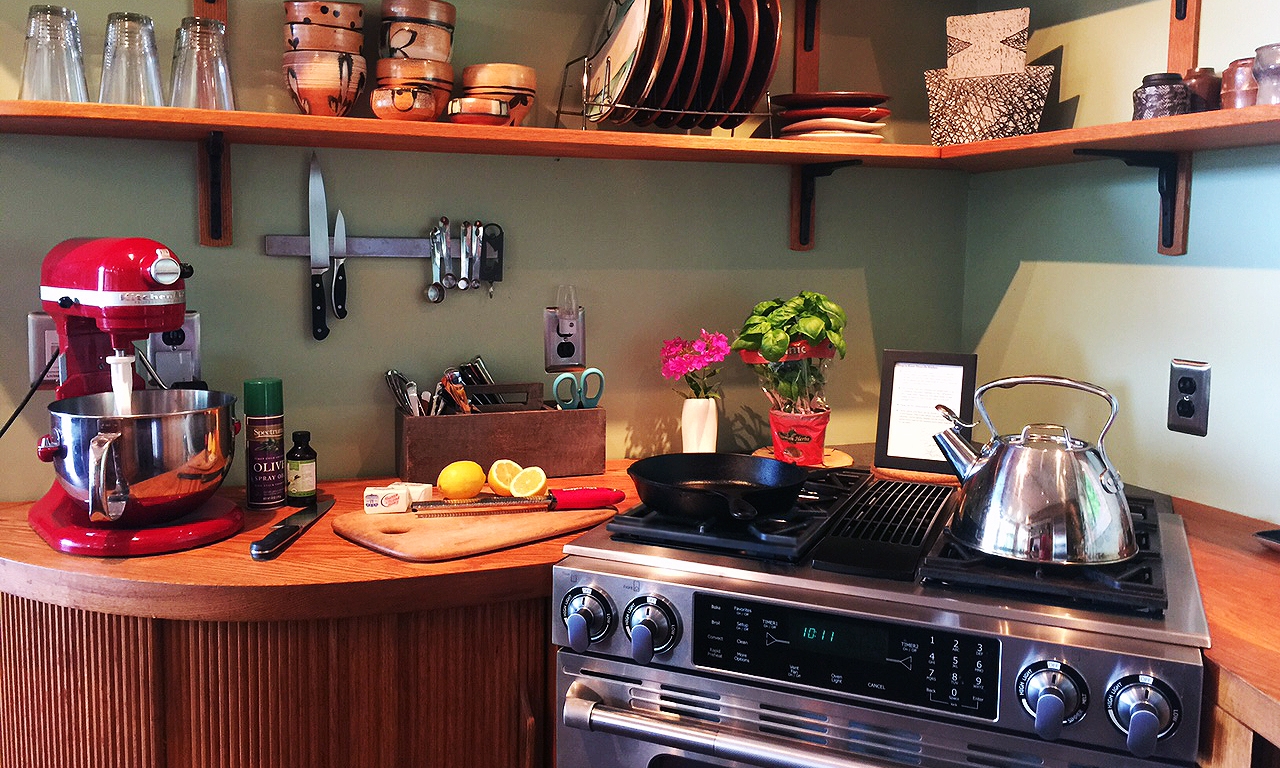 Fully Equipped Kitchen
Unlike a lot of vacation rentals, our kitchen has everything you need! From a stand mixer, peelers and spatulas to high-end appliances, cast iron and quality cookware, you can save money by cooking at home.
We also simplify packing by stocking trash bags, dish soap, common herbs & spices, as well as pantry staples like condiments, flour and sugar.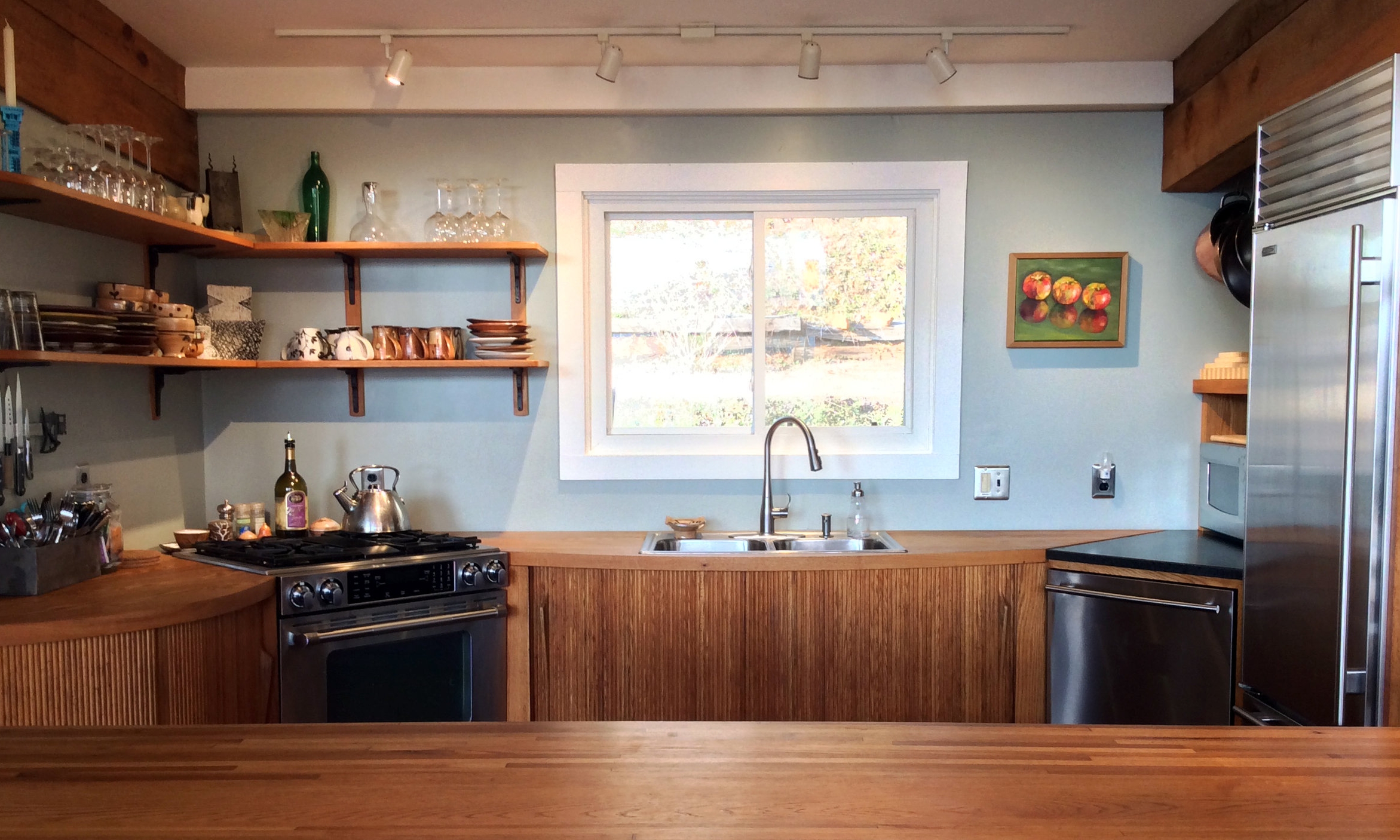 Kitchen
The curved kitchen cabinets, bar and counter tops were made by a well-known area artist. The kitchen has everything you need to cook for a crowd and with a 12 foot bar, offers excellent prep space where you can be a part of the conversation, too!
Top of the Line Appliances
Kitchen Amenities Include: A gas range with a pro-grade high BTU burner and a convection oven, Sub Zero refrigerator/freezer, a super quiet dishwasher, stainless steel microwave, high-end cookware, coffee maker, French press, coffee grinder and lots more to make your home away from home comfortable.
Dining Area
The dining area seats six and extends to seat 8 - extra chairs are available in the house. Artwork by Rick Smith. (Artwork by the backdoor is by an unknown artist.)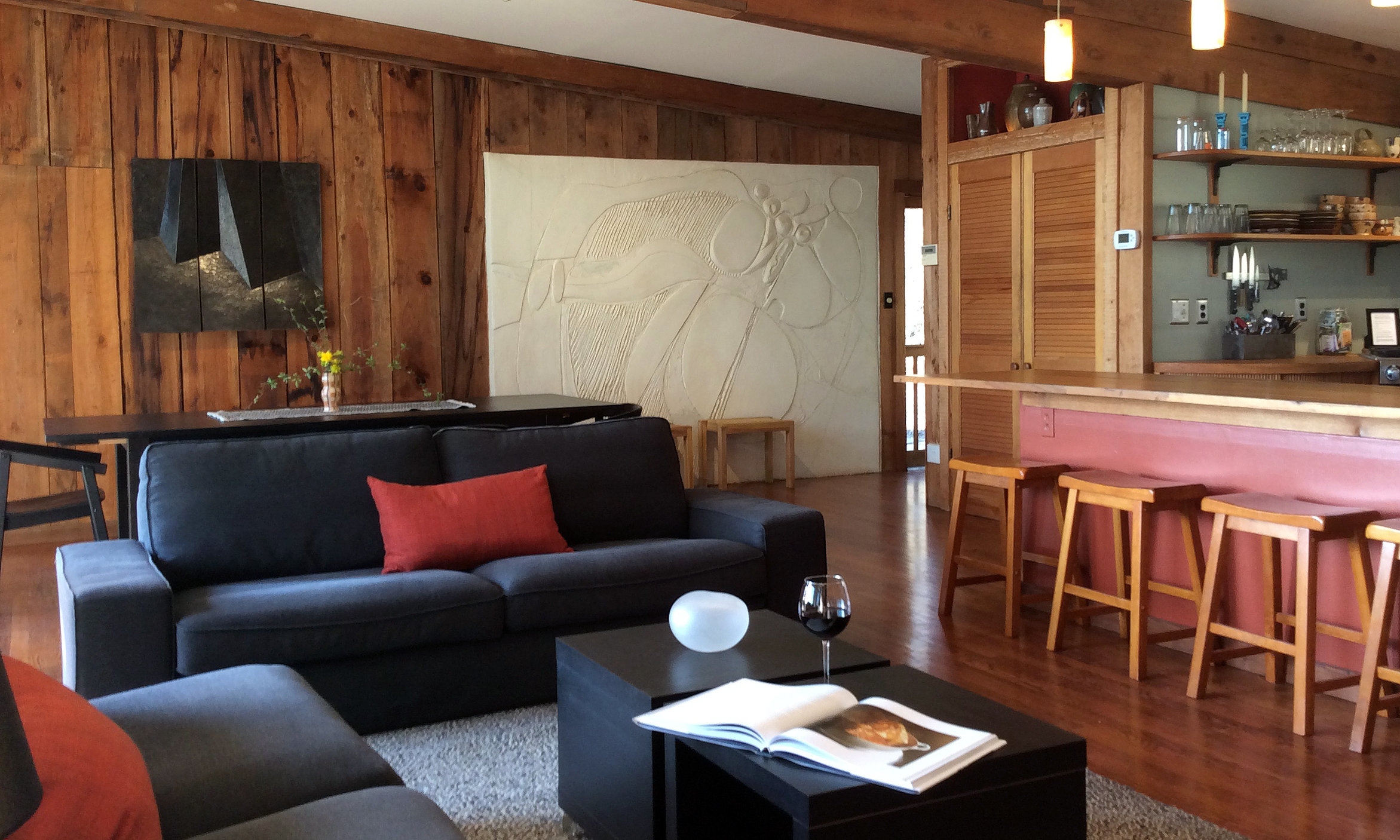 Open Floor Plan Living Space
The living space is one big open room with three large sliding glass doors that make the room airy and filled with natural light. It is the perfect space to visit with friends or entertain!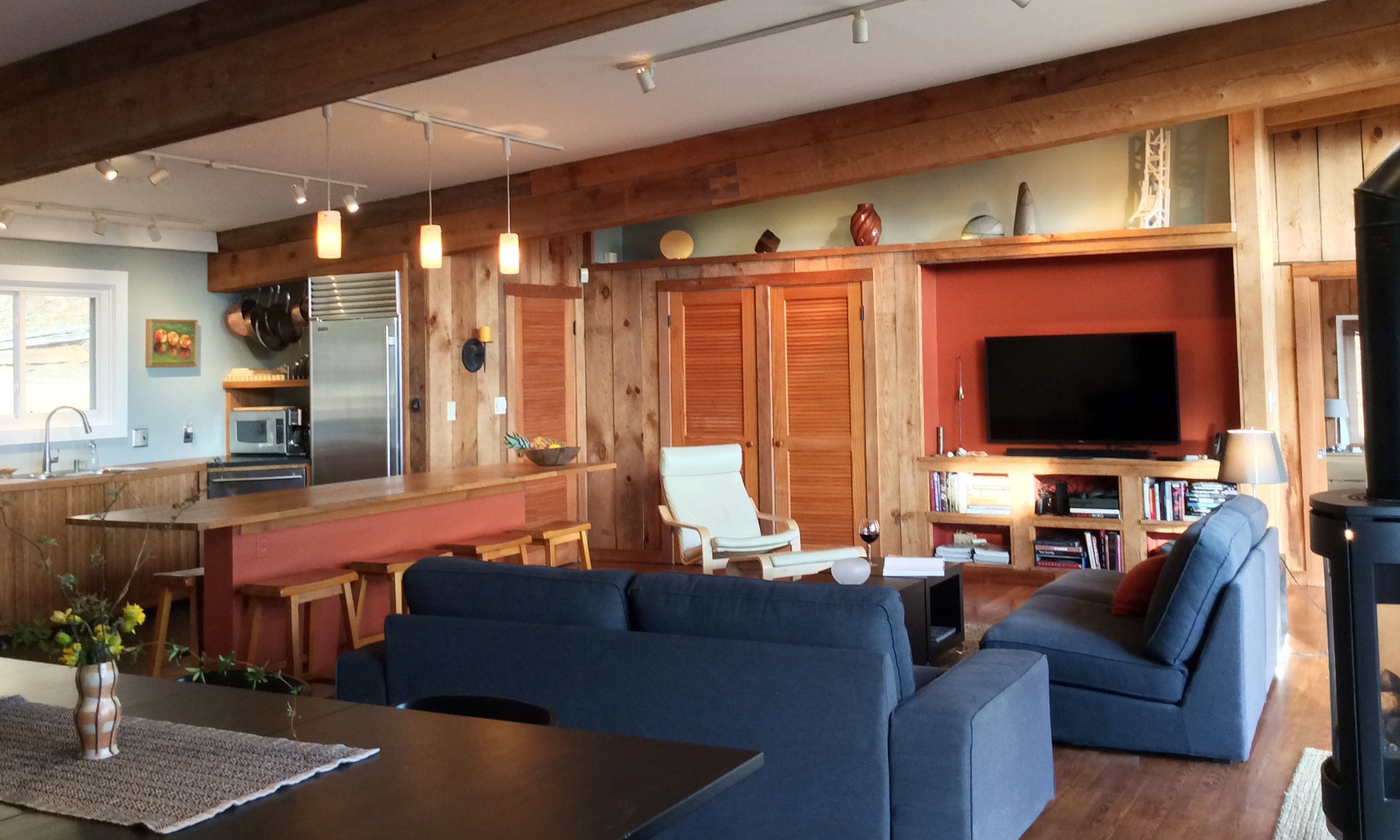 4K Color, Smart Home & More!
For a rural setting, we have all of the modern amenities! Fiber optic internet, 4K color HDTV, Xbox One S and BluRay player, eco-friendly lighting and smart home features to help you find out today's weather or news, Conley House is rustic by nature, but you don't have to be a luddite to enjoy your time here!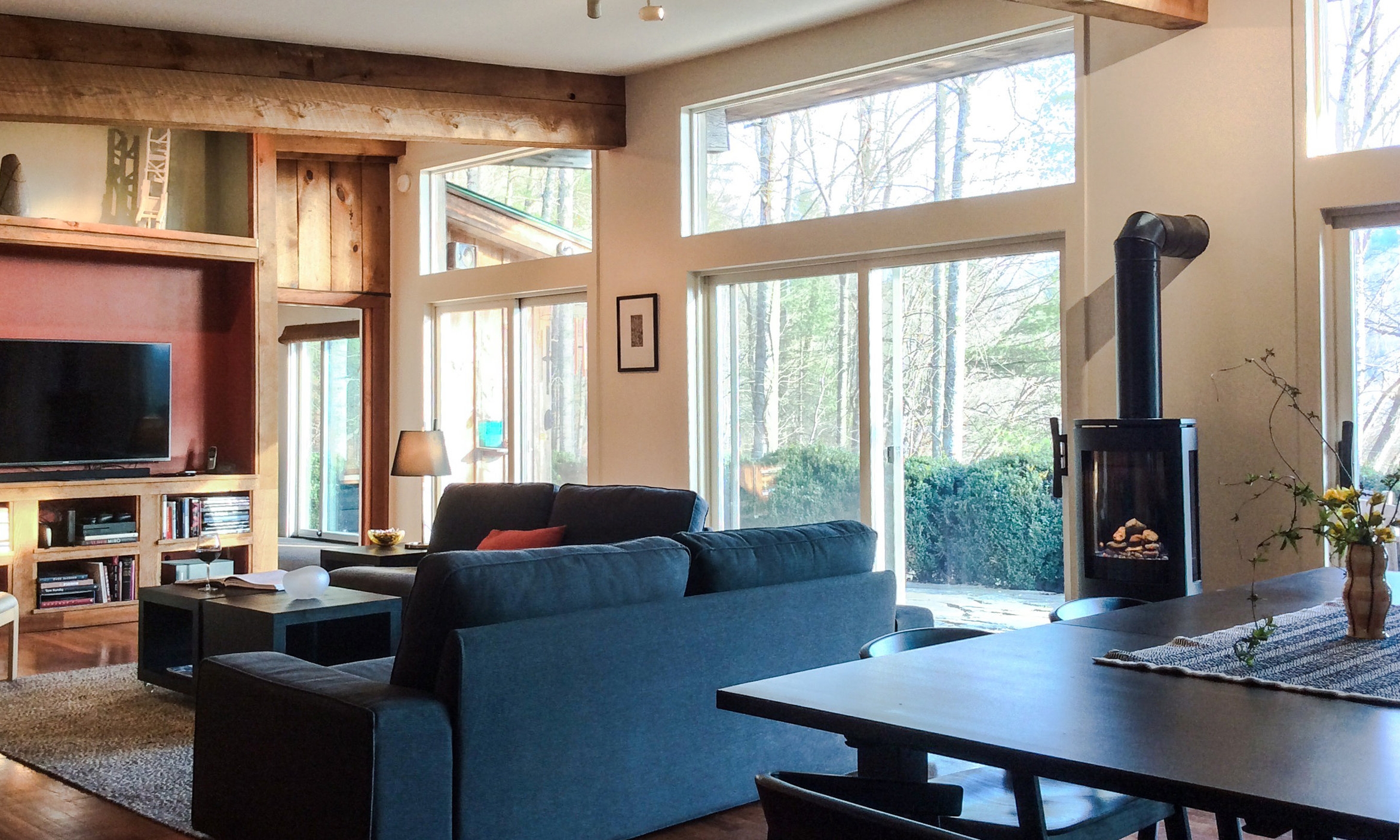 Live in the Great Outdoors INSIDE
With so much natural light and that amazing view, you will feel like you are living in the great outdoors with all the comforts of being inside. The new gas log stove ads ambiance, too!
Shade Garden
Located just outside the master bedroom is a quiet little shade garden that is full of hostas and ferns. This peaceful spot is in view from the master bath, too.
Fresh Fruit
The property has a number of fruiting trees and bushes, like these blueberries on top of delicious French toast picked just outside the back door!
Herb Garden
Under the shade of a Japanese maple, there are a number of herbs grown annually: a variety of thymes, sage, mint, oregano, parsley, rosemary, basil, globe basil and many others when in season. Guests are welcome to use them.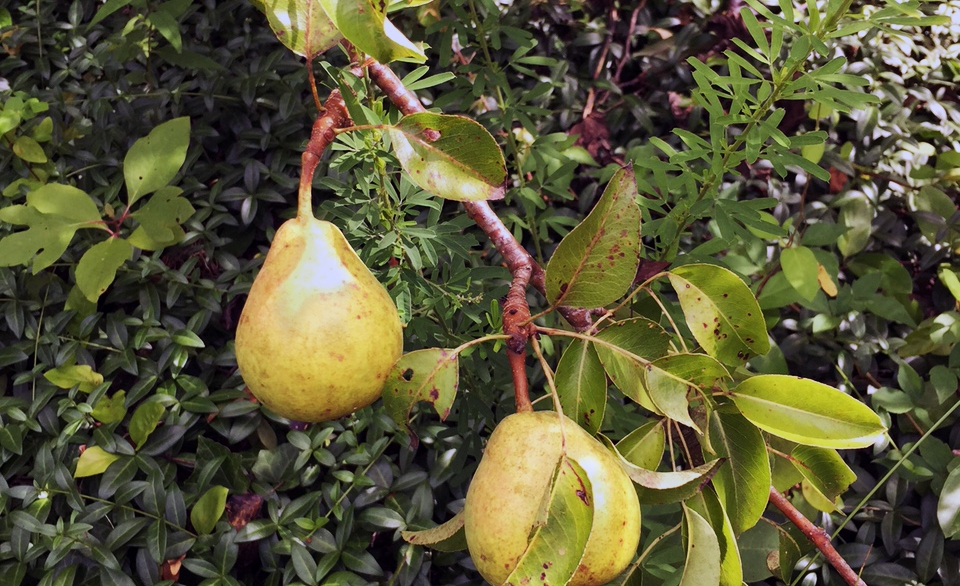 Fruiting Trees & Berries
In season, guests may pick apples, pears, blueberries, strawberries, blackberries and many herbs right on the property.
Relax by the Fire
The fire pot was made by our friend and fellow blacksmith, Sven Bauer. Along with the terrace, it is located in the fenced in area of the yard.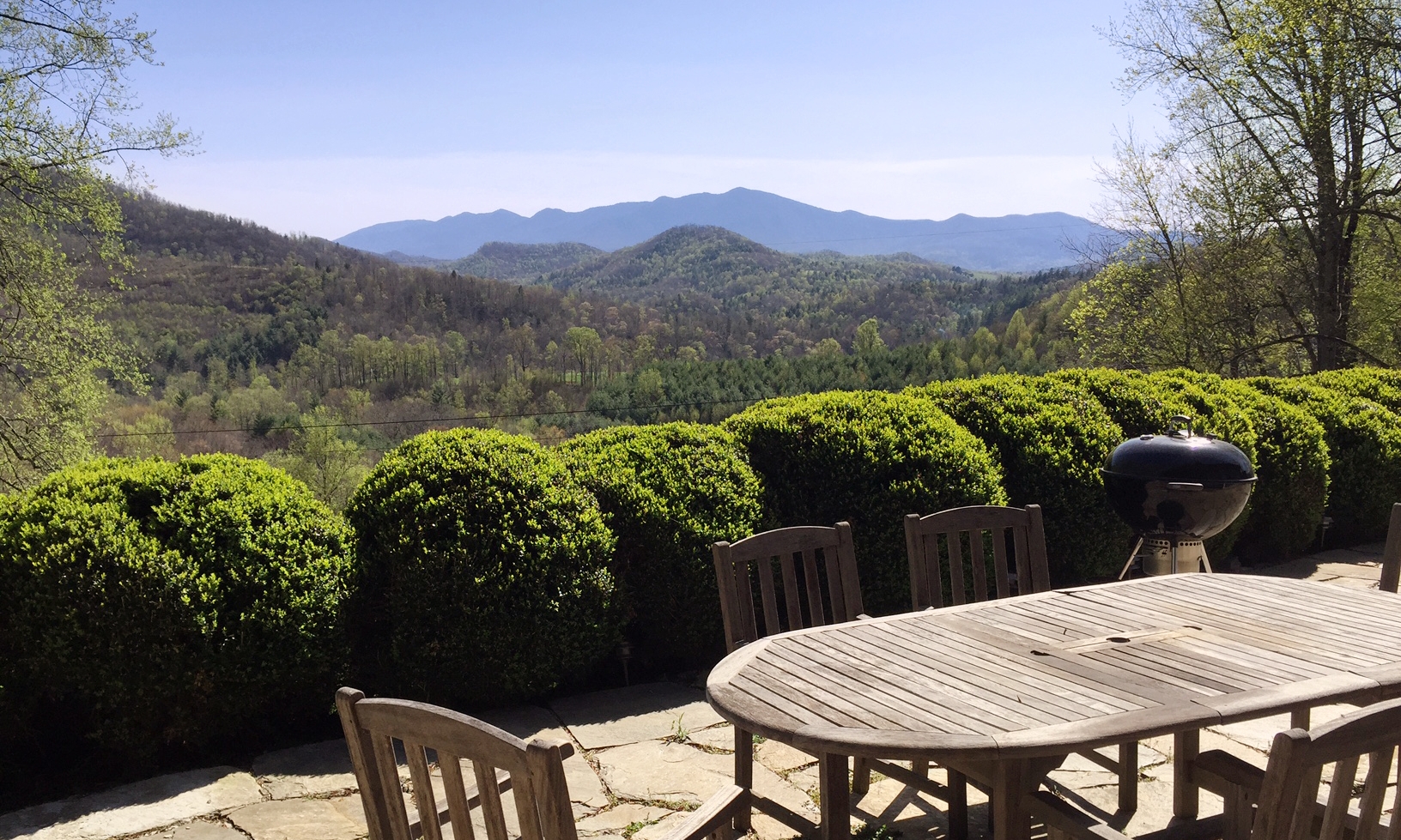 Teak Table seats 6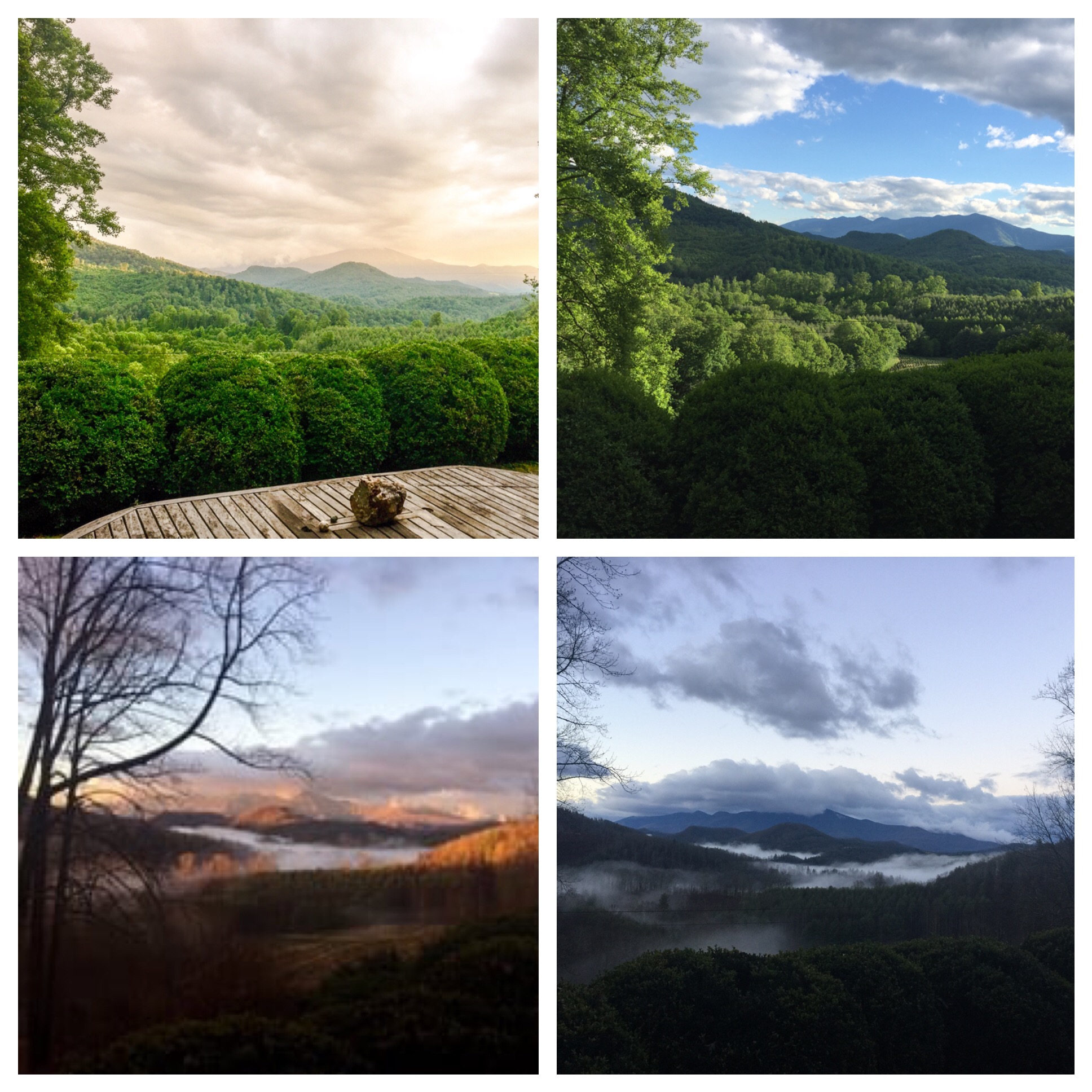 Spring . Summer . Fall . Winter
Pictures don't do it justice! There is a new view every day, every season. Spring is bright and beautiful. Summer is lush and green. Autumn is rich and dynamic. Winter is clear enough to see for miles!
Patio space
All along the front of the house runs a privacy hedge and hand laid stone patio that sites two levels above the road, so you can enjoy privacy while still being less than 15 minutes to groceries and shopping!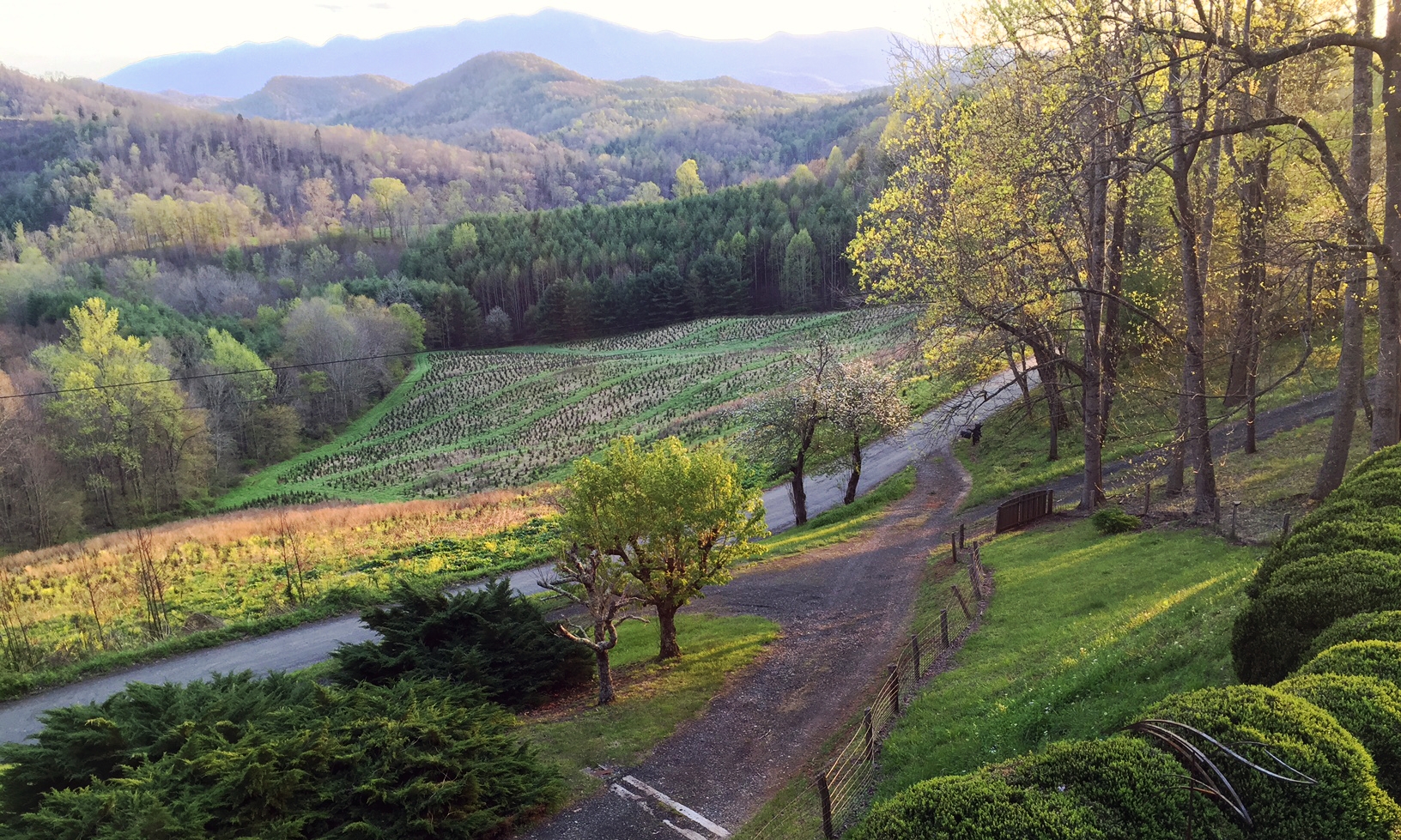 Front Yard
This photo was taken from the roof of the house and looks down the front yard to the drive, across the road to the valley full of Christmas trees and the Black Mountains beyond. The tallest mountain you see is Mt. Mitchell, the tallest peak east of the Mississippi!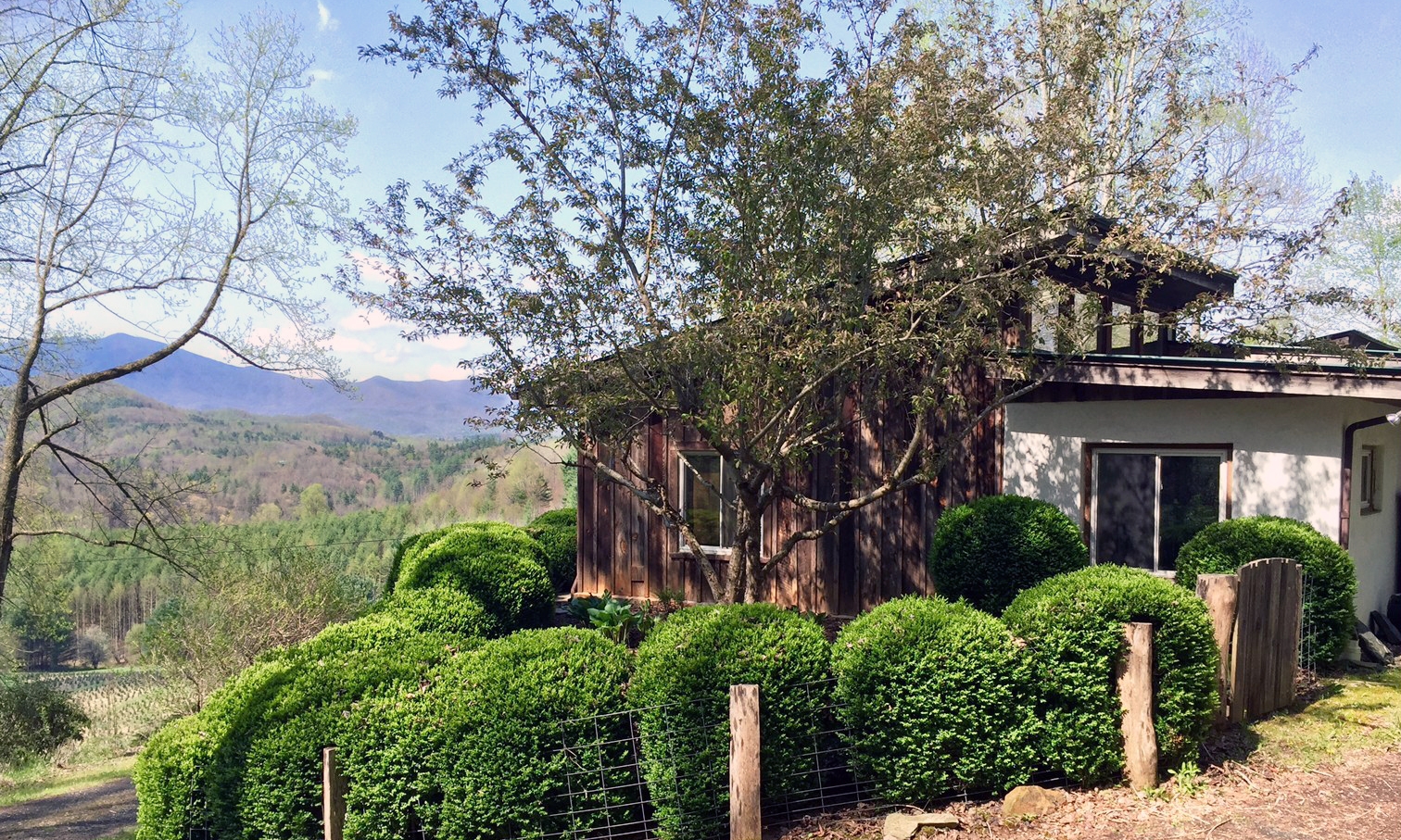 Natural Surroundings
The house and studio are landscaped with lush greenery, flowers and herbs, fruiting trees and shrubs. The backyard (not pictured) offers a little hike and features boulders and mature trees with 6 acres on which to explore.
Path to Office/Third Bedroom
A short distance from the house, across the driveway, up a lighted path is the entrance to the office/third bedroom.
Studio Office/Bedroom
This spacious, light-filled room is in another building, away from the main house. It can be used as an office or a sleeping space. (Limited availability in cold weather months due to snow and ice.)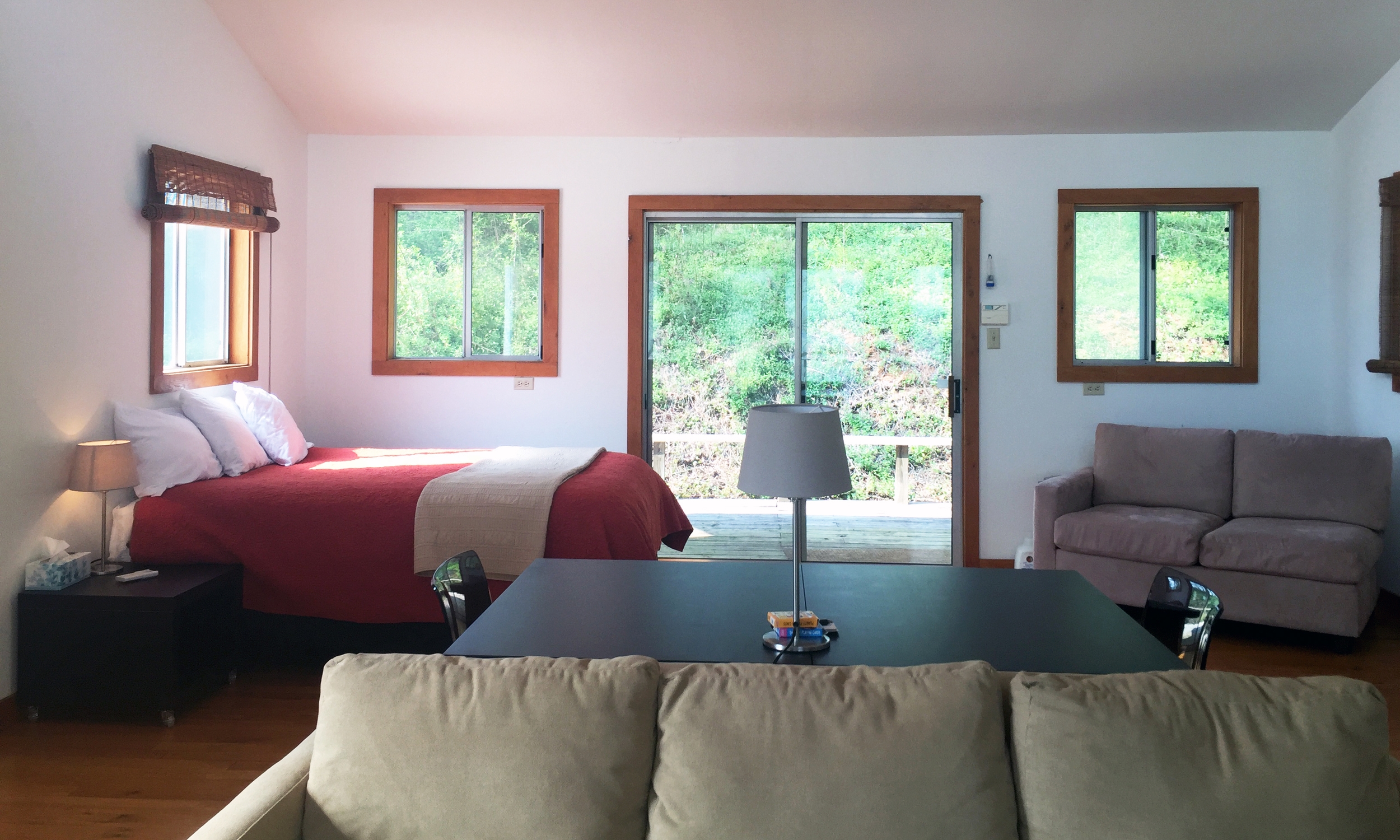 Business Center & Bedroom
The office also has a comfortable queen-size bed, seating area, game table and computer desk with 28" iMac and laser printer that can be used by guests. Since it is away from the house, it is perfect for those who want to stay up a bit late without waking the others.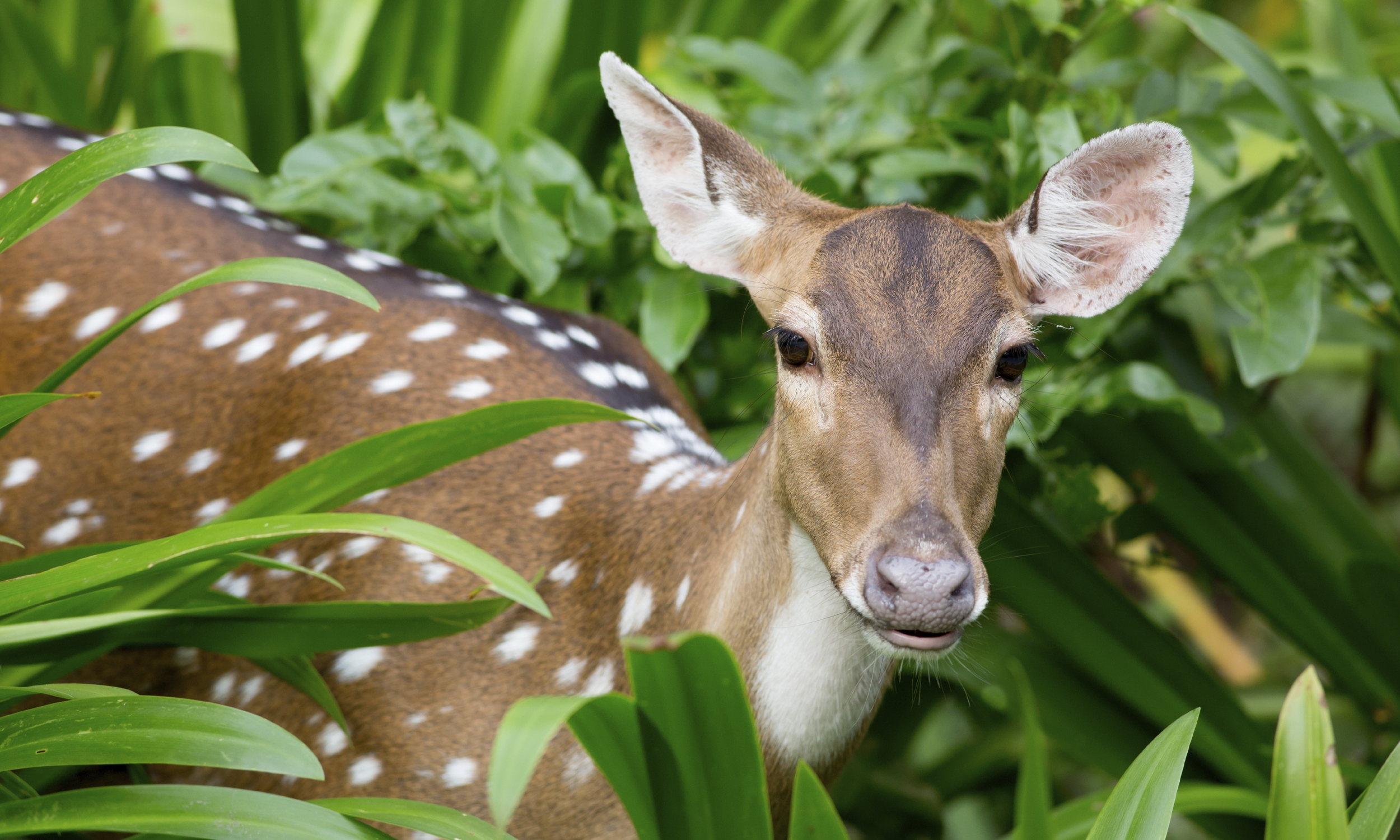 The house at night taken from the fire pot area.